Accounting software is a computer program build and setup up to store and manage the accounts and also perform arithmetic or accounting operation. Accounting solutions are used to keep records of transactions(account receivable, payable), payroll etc. The main purpose of account software is to meet the internal and external financial expenses and keep a record for it. It is the systematic measurement, verification, interpretation, summation and classification of financial data.
Accounting system is used to stay informed about the wide range of finance related business needs in such manner that adds accuracy and proficiency to the business. Through the utilization of accounting packages any organization can record and Monitor their cash flows. This change in cash flow visibility can help prevent future financial loss, and help to make better monetary choices.
Accounting information system will by and large contain tools that helps to create bills, process payments, track costs, improve communication and create reports, thus helping to reduce cost and time spent on accounting Task.
Such softwares additionally incorporates efficient functionalities, for example, the mechanized era of check printing, accounts receivable and Payable, bookkeeping, billing, fixed assets, payroll, and Sales forecasting. Software's now a days ranges from fundamental to more advance systems including adaptable software for growing organizations, through to best software for particular industries.
Customer Purchase Insights for Accounting Software
Here is the account software report generated by analyzing more then 5000+ accounting information system buyers in 2016.
1. Geographic Spread Of Accounting System Buyers
2. Industry-Wise Spread Of Accounting Solutions Buyers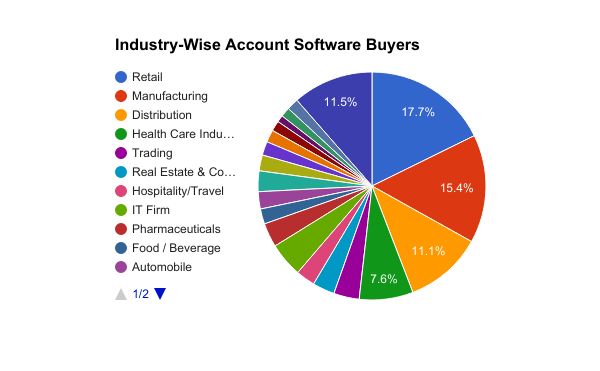 Accodone has different editions those enriched with the features of domains concerned in addition to the basic features of Accodone. Very attractive price scheme is offered for limited period those are having GST compatible features.